On Visible & Invisible Healing
Yes, yes. While the world continues on its path to destruction, there are forces in position to heal and save this planet. It is difficult to attempt to explain that which, by its very nature, defies explanation. Certainly, mere words cannot come close to suffice. However, as language for now seems the only mode of communication, we must try to condense our perception into words. Realize that the use of words can expand one's awareness or contract it, depending on the source, intent and delivery of the message. Limiting though it may be, let us begin.

That which is beyond comprehension is operating on behalf of this planet now. One could call it the element of Grace.

Healing power does not limit itself to one's hands, but can be integrated into one's soul. There are those who have come to Earth simply to fulfill this mission to save this planet. They may not be fully aware of their own propensity for sending and receiving healing energies. This may often be done through them, with only an inkling here and there of the healing power residing in them. Often, this blissful state of unawareness is for their own protection. Neither name nor fame interests them. Thus, healing can flow freely through their instruments. And their 'tribes' are increasing.

Yes, yes. We have made some progress in the seas. Still, species threatened by radioactive particles continue to be at risk. It is a race against time. And still, willful slaughter of the most peaceful of creatures continues en masse on this planet.

The forces of darkness and light most certainly are coming head to head. We know the outcome. It is our duty and responsibility to continue to push through to awaken those whose souls have come to work in the Light.
The purity of the fires and resultant ash are essential to the next phase of planetary evolution.
OM TAT SAT.
On Polar Shift and Climate Chaos
Yes, yes. The polar shift, which we have foreseen, is not a sudden occurrence that will set the world on its side. It is a gradual process which has already begun. But in May 2015, it will reach a point where these expected changes in weather and so on will become undeniably obvious to the naked eye, so-to-speak.

Climate change is already well underway. Expect more extreme weather patterns—extreme cold temperatures in lands where the weather is generally warmer, extreme winter conditions in regions which have previously witnessed far less snow and even in some places, none at all!

In colder climates, there will be milder winters and hotter weather where normally there was little. Of course, the effects on certain species of animals will be extreme, but we also foresee a dramatic shift in humans' awareness coinciding with the polar shift environmentally.

All who are working for the Light, whether it be environmentally, spiritually or through education and the knowledge base, must know that you are all being prepared for the shift. Thus, there is no cause for anxiety or fear of any kind. OM.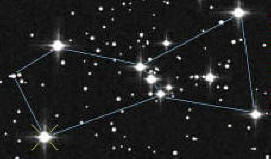 More info: www.oriontransmissions.com