EDITOR's NOTE
_________________
HOMA HEALING
_________________
HOMA FARMING
_________________
ECO NEWS
_________________
EVENTS
_________________
LEARNING ABOUT
AYURVEDA WITH
DR. IRMA GARCIA
_________________
MESSAGES FROM SHREE VASANT
_________________
FROM ORION TRANSMISSIONS
_________________


THE JOURNEY OF THE SOUL (2)
Let's continue with our research about the path (or possible paths) of the soul on the journey of life. Please, remember that whatever is expressed here is a simple approximations to the truth, as this is beyond the intellect and it is only known through the "experience". For simplicity, we will use symbols whose meaning facilitates understanding. Let's start with the symbol for "infinity" ∞. This may represent the positive and negative polarity as part of the manifestation. It can also symbolize the two worlds: visible and invisible.
The soul or spark of light travels in different bodies in these circles of life (Samsara).
Most people know about the death of the physical body. Some think that this is the end of the journey. But more and more people are sensing or perceiving continuity after this "death" of the physical body, which can be seen as a birth in an invisible world.
In addition, the Scientific-Spiritual Literature indicates that:
a) There is also a "Second Death"
b) We are caged in these vehicles or we are free, depending on our realization about:
1) the virtual existence (mental) of these worlds (visible and invisible) and 2) the under-standing that desires are traps.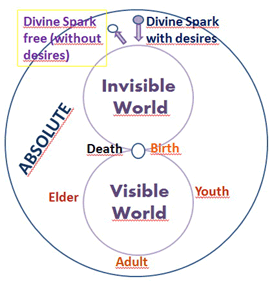 1) The Divine spark with desire first descends to the invisible world through the subtle bodies (causal, mental, astral, etc...). Then they enter the physical body and pass to the visible world through a birth.
2) The spark migrates in these bodies and worlds as long as there is desire. Thus, it experiences the deaths and births.
3) The Divine spark with no desire is released.

c) The execution of any activity with attachment to a result catches us. Thus, errors or failures, sins, negative actions, etc., lead us to a small (or large) "hell". The successes, virtues, positive actions, etc. lead us to a small (or large) "heaven". The "Detachment" leads us to "Freedom", which goes beyond pleasure (heaven) and pain (hell). If we can make, conceive, know and experience our "Immortality" and "Independence" of these virtual worlds (imaginary), "We will be free". Heaven, hell, purgatory, planes, dimensions, etc., where we travel or reside, are linked to our imagination, beliefs, emotions, thoughts, etc.