EDITOR's NOTE
_________________
HOMA HEALING
_________________
HOMA FARMING
_________________
ECO NEWS
__________________
EVENTS
__________________
HOMA HEALTH WITH PHARMACIST MONIKA KOCH
_________________
MESSAGES FROM SHREE VASANT
_________________
FROM ORION TRANSMISSIONS
_________________
OVERWEIGHT
- OBESITY
Yes, this is today's topic. The cause of this dis-order or dis-ease could be very simple or complex. In some, it is due to over-eating ("gluttony", eating more than what is required). In others, it is due to a hormonal imbalance. For some, it might be "genetics". For some, it is because of a sedentary life style or the stress or the environment (example: the people around eat too much and encourage others to eat more). Some erroneous eating habits such as: too much junk food, wrong food combinations, bad timings, etc. could be causes. Emotional/mental upsets (nervousness, anxiety, depression, etc.) can be precipitating factors. Anyway, many people are passing through this experience. Sometimes, great souls are hidden behind the cover of adipose tissue (fat). Many times, these layers of fat are something like protective shields. Sometimes, that amorphous shape of the body is a reflection of an "amorphous mind". However, let's recall that "True Beauty" does not depend on the figure or shape.
This Beauty can be seen in the: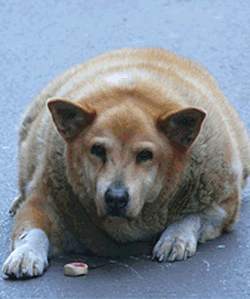 We show what we eat.
Eyes, loving gestures, poises, compassionate attitudes, kindness, loving words, sincere and spontaneous smiles, actions of service, wonderful music, heart touching songs, pieces of art, philosophical thoughts, etc.
Beauty can also be seen within the silence and the inner peace, on an unadulterated nature, a majestic landscape, etc.
No matter what, many people start worrying when their clothes get tighter, especially around the waist area. By the way, real beauty is not linked to fashion, nor brand of clothes either, nor the latest "make-up" or "make-over". Even though, we tend to be concerned when the harmony (anatomy) or workings (physiology) of the physical body parts are abnormal, people only pay attention when there is some pain. Then, an inner voice may say: "Don´t eat too much", "Exercise", "Eat different foods", "What are you thinking or feeling that is causing this overweight?", etc.