EDITOR'S NOTE
_________________
HOMA HEALING
_________________
HOMA FARMING
_________________
ECO NEWS
__________________
EVENTS
__________________
HOMA HEALTH WITH PHARMACIST MONIKA KOCH
_________________
MESSAGES FROM SHREE VASANT
_________________
FROM ORION TRANSMISSIONS
_________________

JUST A FAMILY
For a moment, let's use our imagination and project into our minds the following scenes related to a family:
Don Carlos, the father, arrives from the market and heads towards the kitchen. Then he delivers a package to Mrs. Natalia (the mother), who takes a bunch of bananas and gives a fruit to each of her 4 children. At that time, the visiting cousins, knock on the door. Then they cut their fruits and give a piece to their relatives. An hour later, Joseph (eldest son) goes quickly to his room to get something, but he tripped over the table and knocks a valuable porcelain lamp. Immediately, Don Carlos came in and asked: What happened? At that time Lucky, the cat crawled under the bed and Joseph thought he could blame the cat, but his conscience told him "we must tell the truth." The father scolded him for being careless, however Joseph was satisfied with his conduct. Meanwhile in the basement, Mary was checking the family clothes she was going to wash. So she found a $ 50 bill in a pocket of Ramon's pants, her brother.
She thought "I can buy the blouse I want with this."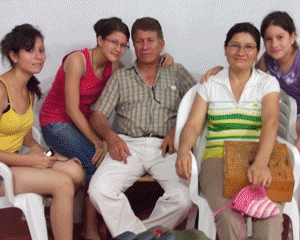 Light Families
However, her conscience said, "This money is not mine." She went upstairs and handed the $ 50 dollars bill to her brother. Then Don Carlos rang a bell to call everyone for it was time to meet for sunset Agnihotra. Around 7:00 pm, they sat at the table, made a prayer, ate and shared ideas. Then, Andrew (16) and Anne (15 years) helped collecting and washing the dishes and other kitchen utensils. At bed time, Don Carlos and Doña Natalia went to the rooms to say goodnight.
These were some simple moments in the life of the Fernandez family. Today, there are many challenges at home and sometimes the family is made up of a single father / mother and children. To reduce the quarrels, it is good for the parents to remember that good words help, but the example has more impact on children. The Fivefold Path (Agnihotra Daana, Tapa, Karma and Swadhyaya) helps us to align and synchronize our thoughts with our words, emotions and actions. This always leads to harmony.
Viva la familia! (long life to the family!)
OM OM OM