EDITOR'S NOTE
_________________
HOMA HEALING
_________________
HOMA FARMING
_________________
ECO NEWS
__________________
EVENTS
__________________
HOMA HEALTH WITH PHARMACIST MONICA KOCH
_________________
MESSAGES FROM SHREE VASANT
_________________
FROM ORION TRANSMISSIONS
_________________
CAN WE DIE WITHOUT DYING?
To answer this question, we must first define "death." From the scientific point of view, it was said that death was the absence of:
a) Pulse (heart activity)
b) Visible Breath
c) Reflexes
However, many people were buried while in a state of "dormancy" or periods of catalepsy. Then, with the advancement of technology and better understanding of the brain, death came to be defined with an electroencephalogram (EEG) by showing the absence of brain bio-electric activity. However, this proved insufficient because this could be "reversible" in very rare cases. For example, some people who drowned in freezing waters and came back. Today, we have added other criteria: rigidity, cooling, the appearance of skin blemishes, putrefaction, intracranial hypertension, pupillary dilation, etc.
From a legal standpoint, in most parts of the world, someone is considered dead when the vital activity of the whole brain has ceased and it is irreversible. This can be checked with well-defined neurological protocols. This is important in the case of some people in "intensive care".
The Yogi seeks the experience of Samadhi where he can enter and exit that state consciously.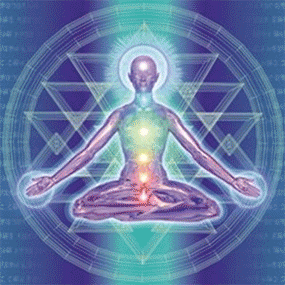 SAMADHI
For the common man, death is usually irreversible and is a process where he loses consciousness. For the Yogi, there is no death or end, but the continuation of experiences on a physical plane to experiences on a supra physical plane.
Also, the 'Yoga Sutra of Patanjali' says: "chitta vritti nirodhah Yogah," meaning "yoga is the control or cessation of mental activity."
From some religious point of views, death happens when the soul leaves the body.
From the point of view of yoga, the purpose of the individual soul is to be reunited with the universal soul. Also, in the Yoga language, the word Samadhi is a kind of "ecstasy" when you lose consciousness from the physical body, but continue with a "conscience above the physical level."
Is there anything in common between the Samadhi and the experiences of those who have been through a "clinical death" but have returned? Some say the following:
1. They perceived a light and /or sound
2. They went through a tunnel
3. They felt overwhelmed by a feeling of love and acceptance
4. They did not want to leave this state
5. It expanded their understanding and changed their attitudes and behaviors