EDITOR'S NOTE
_________________
HOMA HEALING
_________________
HOMA FARMING
_________________
ECO NEWS
__________________
EVENTS
__________________
HOMA HEALTH WITH PHARMACIST MONICA KOCH
_________________
MESSAGES FROM SHREE VASANT
_________________
FROM ORION TRANSMISSIONS
_________________
SWADHYAYA -
LIFE AND DEATH
It is said that a living organism is born, grows, reproduces, grows old and dies. Most people call "life", the filling of these stages with many experiences. These experiences are directly related to our desires, thoughts, emotions and actions. It seems that our degree of happiness / pleasure and pain is directly proportional to our degree of attachment. Thus, the greater the attachment to an object, plant, animal, person or experience, the greater the sense of joy and pain. For many, life has an end called "death." For some, life is an endless process of change, until we stop changing. Do the changes end with death? Well, maybe on the physical level (for a short time). However, if you stick to the physical principles - nothing is created nor destroyed; it only changes. If this is so, are we still changing or moving after death? And, is there a soul? According to the Bible, when the man dies, the soul leaves (Gen 35.18) and if man rises again, the soul returns (1 Kings 17.21). So, where do we go? Are we going to meet with our loved ones in heaven or purgatory or hell or ...?
OK, why do we cry when we lose someone close to us? Is there a chance to go back to life with another vehicle (body)?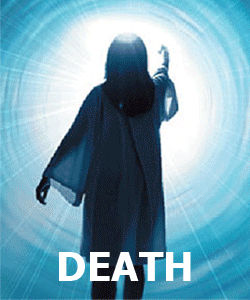 It is said that "For whatever object a man thinks of at the final moment, when he leaves his body - that alone does he attain". (Bhagavad Gita, Chapter 8.6). Our desires are said to bring us here. But, can we become free of desire? Can we overcome death (freedom from death)? Can we stop being part of the film, illusion and the ups and downs of life? Can we go to the source of light that causes this film? Some people say that human beings have to repeat this over and over until they break these cycles. Only then, humans will be free. Let's look at this a little closer.
Can we become witness of the fantasy that it is played in front of us without being part of this game? Is the goal of life to learn to be unconditional love under any circumstances and without attachment? Perhaps, there is no life nor death, no beginning nor end. Perhaps, we are eternal points of light with a similar essence. Perhaps, the key is to "be aware".