EDITOR'S NOTE
_________________
HOMA HEALING
_________________
HOMA FARMING
_________________
ECO NEWS
__________________
EVENTS
__________________
HOMA HEALTH WITH PHARMACIST MONICA KOCH
_________________
MESSAGES FROM SHREE VASANT
_________________
FROM ORION TRANSMISSIONS
_________________



More about FOOD SWADHYAYA
Food is closely tied to our physical and mental well-being; therefore, it deserves more attention and study.
Most people eat 2 or 3 times a day. We tend to regulate the amount we eat, based on our level of satisfaction, programming, budged, awareness, etc..
Although, we've talked about gluttony and people who tend to overeat in the previous article (#64), there are others who do not eat enough. Roughly 15% of the world's population, more or less 1 billion people, face this situation. For now, let's focus on those who can buy their food and do not have any eating disorder.
The flavor and the presentation of the food can vary according to cultures and traditions. So, people talk about Chinese, Mexican, Mediterranean, Indian, Latin American food, etc. But let's answer the following questions:
1) What kind of food do we eat?
Are we omnivores (eat everything), ovo-lacto vegetarians, lacto-vegetarians, vegetarians (macrobiotic, fruitarians, raw food eaters, etc.).?
2) How healthy is our food?
2a) Was this food treated with synthetic substances such as: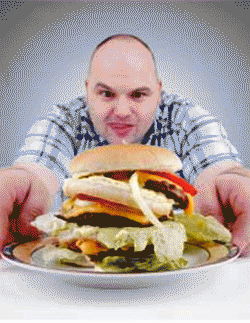 Swadhyaya for a healthy change
pesticides, insecticides, fungicides, nematocides, synthetic fertilizers, hormones, etc..?
2b) Is our food GMO?
2c) Are we eating trans fats like margarine? These seem to increase the risk of coronary heart disease.
2d) Is our food organic (non-toxic)?
3) Are we eating compatible food combinations?
Example: fruit salads, where sweet fruits are not mixed with acidic fruits are OK. If they are mixed, there is no good digestion.
4) Are we eating more whole, integral products or refined products such as sugar and white flour? Are we consuming synthetic substances such as flavors, colorants and preservatives?
5) Are we eating products prepared with hygiene, not containing fungi, bacteria, parasites, etc. ?
6) Do we prefer foods which have an acid or alkaline effect on the blood pH?