EDITOR'S NOTE
_________________
HOMA HEALINGS
_________________
HOMA FARMING -
PRODUCTION RISES WITH EACH HARVEST
_________________
ECO NEWS
_________________
EVENTS
_________________
MESSAGES FROM SHREE VASANT
_________________
FROM ORION TRANSMISSIONS
_________________



GLOBAL FOOD CRISIS
Some people are passing through a "personal crisis" and others find themselves in a "family crisis". USA is passing through an "economic crisis" as well as many other nations. The Health System is in crisis in many places due to the high cost of medicines and treatments; also many medicines do no longer give the results they used to give. There is an "education crisis" in many countries. "Energy crisis" due to the high cost of fuel is also occurring.
These economic, health, environmental and social crisis' are happening simultaneously. "When it rains, it pours."
As you can see, the word 'crisis' keeps coming up, but most people decide not to react and some feel that they cannot do anything about it. However, according to the UN, there is another crisis that is today affecting thirty seven (37) nations and is rising in other places as well. In fact, we are talking about the "Global Food Crisis" due to:
1) increase in cost of food
2) decrease in production per hectare in agriculture
3) decrease of natural resources such as water and fertile land
4) extreme climatic changes, etc.
This crisis in the agricultural sector is affecting everyone to some degree. The economically weakest will feel the sting earlier, but it will hurt everyone eventually. It is a matter of time. It is not going to happen in 50 years, or 10 years. It is within 2 to 3 years according to some experts. On April 16th 2008, there were already riots for food in Bangladesh, Egypt, Philippines and Haiti.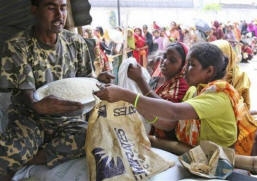 The Global Food Crisis is affecting everyone to some degree. The economically weakest feel the sting earlier, but eventually it will touch everyone.
------------------------------------------
When you or anyone in your family feels hunger or thirst, you cannot simply sit tight and wait until the government or someone else does something.
Some people never thought that we will buy bottled water. By the way, is anybody planning to sell oxygen bottles to the general public soon?
AIDS cases were isolated and far away, not so long ago. Now, AIDS is everywhere. Even if you live on an island, you still are affected by your surrounding. No part of the world is free of pollution. We are responsible for these negative changes, directly or indirectly by doing "X" or not doing "Y".
"X" is anything against Nature. "Y" is anything pro Nature. With a little thinking, you can figure out "X" and with a little more thinking you will get "Y".
According to the ancientmost source of knowledge, the Vedas, "Y" can be summarized in five points: AGNIHOTRA, DAAN, TAPA, KARMA and SWADHYAYA.
For more information about these, you can read: 'Light towards Divine Path' by Shree Vasant Paranjpe.
Now you might ask: "Is there anything I can do to soften this global food crisis?"