EDITOR'S NOTE
_________________
HOMA HEALINGS
_________________
HOMA AGRICULTURE
IN THE MANGO BELT OF INDIA
_________________
ECO NEWS
_________________
EVENTS
_________________
MESSAGES FROM SHREE VASANT
_________________
FROM ORION TRANSMISSIONS
_________________



PURITY
Why is it important to go back to our roots and rescue the sense of purity? Terms such as: hybrid, clone, copy, similar, blend, cocktail, transgenic, GMO (genetically modified Organism), etc. are very common nowadays.
The word "purity" has very wide implications. If we say "X" is pure, it implies that "X" is: unadulterated, in an original state, natural, clean, uncorrupted, etc.
If you are asked what would you rather drink – 100% organic orange juice or an orange drink (10% orange juice and 90% water with artificial coloring and sugar), what would you pick? If your newborn is thirsty and you have the choice to give him/her pure water or pepsi cola, which one would you give?
We are familiar with the process of boiling water to eliminate pathogenic micro-organisms. If we keep heating it up in a closed circle, we can produce pure (?) water. This is called "distillation". There is also a similar physical process that can eliminate the pathogenic micro-organisms and subtle toxins in the air through the Agency of Fire. This is called AGNIHOTRA and it comes from the Ayurvedic Science of Medicine.
Out of the 4 elements (Earth, Water, Fire and Wind), Fire has the power to change the physical structure of matter and something more. You can buy bottled drinking water, but you cannot buy bottled pure air.
We would like to invite you to see some video clips in this newsletter,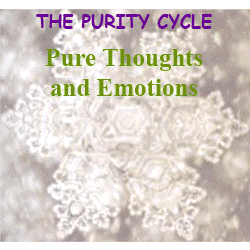 Let's remember the Purity Cycle: pure thoughts/emotions => pure words => pure actions AGNIHOTRA => pure atmosphere => pure food => pure body/mind =>pure thoughts/emotions
where people talk about their healings of respiratory diseases through AGNIHOTRA .
Let's use this Scientific Practical Ayurvedic Process to purify our main food: "Air". Let's remember that we need thousands of liters of air per day and we cannot live without it for more than 5 minutes.
By the way, what does it mean "blessed are the pure in heart for they shall see God" (Matthew 5:8) and
"we must be like a child to enter the kingdom of heaven" (Matthew 18: 2- 4)?
Could it be that the children are free of selfishness, anger, jealousy, resentment, lust, greed, etc.?

Agnihotra helps us to purify our atmosphere, heart and mind. So let us do AGNIHOTRA for TOTAL PURIFICATION.
OM TAT SAT
Note: The practice of AGNIHOTRA on a large scale can reduce the impact of the climatic changes !!