EDITOR's NOTE
________________
HOMA HEALINGS
________________
HOMA FARMING
________________
ECO NEWS
________________
EVENTS
________________
FUTURE EVENTS
________________
SCIENTIFIC ASPECTS OF AGNIHOTRA
________________
MESSAGES FROM SHREE VASANT
________________
FROM INTUITIVE GUIDANCE
________________



#1 EMERGENCY (Part A)
If we look at the current situation in the different countries of the world and we wonder what is the emergency # 1 that affects all?
What would you say?
Most scientists would say:
"Global Warming" or "Climate Change",
but what is the cause? Many agree that the
environmental pollution
has devastating effects on everything and explain:
the increase of population implies an increase in:
°Food consumption
°Agriculture
°Livestock
°Fishing
°Consumption of Natural Resources (water, minerals, wood, fossil fuels, etc.)
°Traffic (terrestrial, marine,
air, river communication,
space (?), etc.)
°Industrialization
°Communication (telephone, cellular, Internet, cinema, etc.)
°Electricity and Electromagnetic Networks
°Consumption of Basic Services
These activities become problems when they are accompanied by:
1) Energy generation through
a) Fossil fuel (gas, oil, etc.) causing an increase in CO2 linked to
the Greenhouse Effect
b) Nuclear plants related to radioactive products and the reactivity
2) Cutting and burning of tropical jungles and forest areas for:
a) Conventional Toxic Agriculture of monocultures in large extensions
Examples: Oil palms, rangelands, etc.
b) Excessive and Irrational Livestock
c) Mining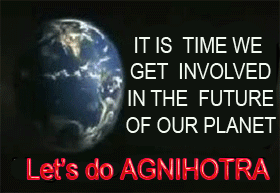 3) Increase of synthetic substances, plastics and waste of all kinds on the planet
4) Increase of Space Debris
5) Chemical Trails
6) HAARP or Geo-Engineering (-)
7) Others

These extreme activities have altered the energy cycles, the natural balance and poisoned the planet with excess of greenhouse gases (C02, methane, etc.), toxic substances, electromagnetic fields, radioactivity, etc.
Of course, this affects all the inhabitants of the earth, including us. This is a kind of
"Auto-Genocide"

However, the Spiritual Scientists tell us that the primary causes are the Mental impurities,
such as: greed, selfishness, anger, envy, lust, etc.
Fortunately, the solution has been revealed. Homa Therapy can help us to mitigate and resolve many of these problems. Yes, yes, yes, only the Science can help us to get out of the hole that we have got ourselves into and not the superstition of thinking that we can continue poisoning and not be harmed (?)
Homa Therapy helps us to: clarify our mind,
transform our awareness, clean our home, and
heal the planet,
our Mother Earth.
Let's get on with it!
Let's light up the Homa Fires.
OM AGNIHOTRA OM