EDITOR's NOTE
________________
HOMA HEALINGS
________________
HOMA FARMING
________________
ECO NEWS
________________
EVENTS
________________
MESSAGES FROM SHREE VASANT
________________
FROM INTUITIVE GUIDANCE
________________



TEAM WORK
As we continue our Self-study, we can see that despite being
"Equal in Essence", some people tend to perform certain activities more easily than others. There is Diversity within Equality in nature. A couple produces different children with different talents. A tree bears similar fruits, but each fruit has different characteristics, is unique.
It is a natural process. The hand has five different fingers, each finger with a specific energy function. You can check this through acupuncture.
Thus each part has a reason for being, which in one way or another, it contributes to the proper and natural functioning of the whole.
So we can understand that the differences between people can be complemented and engaged to work and grow together as a single organism.
This (organism) may be: a couple, family, team, company, community, city, country, world, etc.
We see it in nature when we look for example at ants, bees and birds migrating from one place to another.
But unlike animals, which use their instincts, man is guided by the intellect. If the intellect is clear, stable and healthy, it seeks to develop its potential harmonically, which contributes to the welfare of the body and the soul.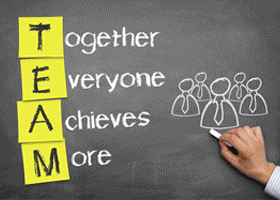 United by love, we are stronger.
Similarly do the body parts (head, heart, arms, legs, etc.), which work harmoniously, we also can join to work and grow together.
What do you prefer:
-Listening to a symphony or one instrument?
-Contemplate an array of different flowers or just one type of flower?
-Eat different compatible dishes or just rice or potatoes or wheat?

Thanks to the differences among the players, we can make good teams if we are disciplined and place the welfare of the group above the personal.
Question:
Are you alone or
are you part of a team?
The practice of Fivefold Path (Yagnya, Daan, Tapa, Karma and Swadhyaaya)
can help us to be better, to serve better within this team.
Viva la difference!
Long live the Fivefold Path!
Om Fivefold Path Om
Recomended video:
www.youtube.com/watch?v=5rOg4WfNDfM