EDITOR's NOTE
________________
HOMA HEALINGS
________________
HOMA FARMING
________________
ECO NEWS
________________
EVENTS
________________
MESSAGES FROM SHREE VASANT
________________
FROM ORION TRANSMISSIONS
________________



CONSCIOUS NUTRITION
& DIVINE LOVE
It is very common to stumble when walking in the dark. However, it is also very easy to walk when there is light on the road and the path is clear. Thanks to the light and knowledge, we can avoid many accidents, mistakes, pains and diseases. That said, let us think about "Divine Love".
The transcendental teachings prescribe "To Love God above all things" as the first commandment. But, how to love God?
Then, this is clearer with "Love your neighbor as yourself".
How to do this?
This is suggested with the next Commandments with "no killing, no stealing, no envying, no lying, etc."
Most people also know about the greatness of the love of the mother and the father towards their children, the love of friends and family members, etc. "Love is a feeling that unites us, connects us."
In some cases, the love of pets is included, yes, yes, yes, those animals that are always jumping, barking and wagging their tails, etc., when they see us coming home. Some consider their pets as family members.
Many people say their pets feel, understand and almost speak to them. What do you think?
Others say that all animals feel and have their own language.
What do you feel?
Normally, nobody would think about killing a pet to eat it.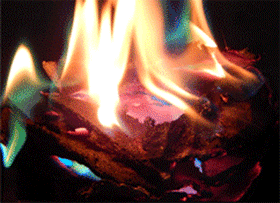 Agnihotra brings us closer to Nature
and Divine Love
But, what is the difference between killing a guinea pig, a rabbit, a cow, a chicken, a fish and killing a pet?
Saint Francis of Assisi referred to animals as his brothers/sisters for he considered them as children of God as well. Do you agree with him?
Furthermore, recently the World Health Organization (WHO) declared that certain meats are carcinogenic. Yes, yes, yes, their intake increases the possibility of getting cancer. Actually, this has been known for several decades and is openly reported now.
Let us move to the next point. "Conscious Nutrition"
What do you take inside through the mouth, the senses, pores, emotions, thoughts, etc.?
What surrounds you that eventually enters and becomes part of you?
The practice of the Fivefold Path (FP = Yagnya, Daana, Tapa, Karma y Swadhyaaya) helps us to:
1) To realize our role as Protectors and Guardians of our little brothers/sisters (animals)
2) To become better Servants of our Great Mother / Father Earth (Pacha-mama).
Let's start with the practice of AGNIHOTRA to improve our mental discernment and stoke the fire of love in our hearts.
CONSCIOUS NUTRITION -> Divine Love -> Love for Nature -> CONSCIOUS NUTRITION
OM Fivefold Path OM
OM SHREE OM