EDITOR's NOTE
______________
HOMA HEALINGS
______________
HOMA FARMING
______________
ECO NEWS
________________
EVENTS
______________
MESSAGES FROM SHREE VASANT
______________
FROM ORION TRANSMISSIONS
______________



RESOLVING PROBLEMS (1)
It seems that life for many people is a series of problems to be solved or needs to be met daily. There are real and simple natural needs such as food, shelter, clothing, health, etc.
And yes, yes, yes, there are artificial and complex needs such as fashionable clothing, jewelry, cosmetics, consumer electronics, domestic appliances, additional furniture, etc.
The products can be classified according to their functionality or the feeling of wellbeing they induce in us. In this modern age, it is common to see people immersed in the collection of objects and assuming the many roles prescribed by society.
Sometimes, you may feel trapped in a loop or in a cage.
So, it is good to remember these phrases:

"You do not get more than you can handle."
"Each lock has a key. If it does not have a key, it is not a lock."
"Similarly, every problem has a solution. If it does not have a solution, it is not a problem."
"We create our own reality."
"The mind is creative."
"There is a Law of Cause and Effect (Karma)."
"Above the Law of Karma, there is the Law of Grace."
"Many problems are to test and help us grow."
"The answers to many of our questions are within us."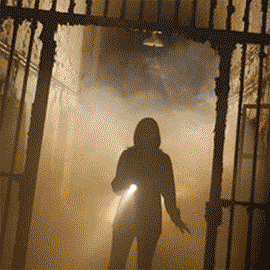 - The Inner Light can guide you in the darkness
-And transform your creative mind
- You create what you think
- And you reap what you sow.
- The Fivefold Path is the key that can liberate you and
-Take you into Active Meditation,
- Then Grace operates and it
can change your Karma.
Sometimes the problems are very complex and to face them, patience, concentration, courage, flexibility, intelligence, commonsense, a good sense of humor, humility and some wisdom are required.
Sometimes, you may feel that there is an answer or solution, but it seems to be hidden in a dark room or it is like a needle in a haystack. Well, you can get a flashlight to look in the darkroom.
How do you find the needle?
OK, for this you can get a metal detector or just a magnet to pull the needle out of the haystack.
The magnet is to a needle in a haystack what Divine Grace and Devotion is to the uncertainty in a challenge.
The Practice of Fivefold Path (FP = Yajnya, Daan, Tapa, Karma, and Swadhyaaya) is a door for the entrance of Grace.
The practice of the FP helps us to see the good behind the apparently bad. The FP helps us to give thanks for every situation.
OM GRACE OM - OM SHREE OM