EDITOR's NOTE
______________
HOMA HEALINGS
______________
HOMA FARMING
______________
ECO NEWS
________________
EVENTS
______________
MESSAGES FROM SHREE VASANT
______________
FROM ORION TRANSMISSIONS
______________



HOLISTIC EDUCATION
(cont. HHNL 108)
Parents want their children to grow up healthy, happy, educated and prepared to be successful in life.
The word "successful" can have several meanings depending on who is talking and the situation. However, in short, we want them to be responsible adults who achieve their goals and are happy. Let us look around and ask: Are we achieving this? Most people would say that they are not happy. Few people have everything but want more. Some have almost everything and demand more. Others have little and need more. Some have almost nothing and need everything. Usually we get educated to have things and we have things to be happy (?).
1) Education -> 2) getting things or properties -> 3) being happy.
Why does it seem that this sequence (1 and 2) does not guarantee a happy conclusion (3)? Although no one doubts the importance of education and the fulfilling of the basic needs of food, shelter, clothing, health, education, etc., it seems that something is missing.
Research indicates that:
1) "Happiness is a state of mind."
2) Happiness is a choice.
3) The mind is creative.
4) The mind can be transformed or changed.
5) Our real nature is beyond the mind, body and emotions.
6) We inherently want "Freedom". What kind of freedom? Physical, emotional, verbal, etc.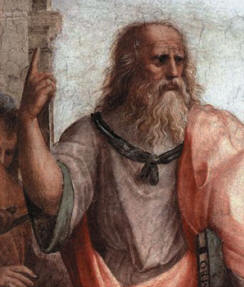 "He who learns and learns and does not practice what he knows is similar to one who plows and plows, but does not sow." - Plato, Greek Philosopher
7) The simple pleasure satisfactions does not lead to perpetual happiness.
8) The unstable mind is an unhappy mind.
9) The vices are to society what are pests to crops.
10) The practices of virtues are to society what good agricultural practices are to crops.
Today we can see: a) many people with robotic behavior b) some people who are: smart, intelligent, great scientists, great strategists (economically, politically, military, etc.), geniuses, artists, gifted with "supernatural" powers (Siddhis), magicians, philosophers, etc., c) and very few who are virtuous at heart. What does this mean? Being truthful, honest, brave, compassionate, kind, peaceful, loving, etc.
If we do some research into Great Civilizations, Cultures and Religions (Vedic, Greek, Roman, Egyptian, Maya, Chinese, Islamic, Christian, Jewish, Buddhist, etc.*), we will find many references about the importance of the development of the Virtues.