EDITOR's NOTE
______________
HOMA HEALINGS
______________
HOMA FARMING
______________
ECO NEWS
________________
EVENTS
______________
MESSAGES FROM SHREE VASANT
______________
FROM ORION TRANSMISSIONS
______________



HOLISTIC EDUCATION
The development of a country is directly proportional to the development of its educational system. Education helps to develop body, mind, personality, character, etc. and creates good citizens. The government' educational programs usually pushes careers related to the sciences, technologies, business management, industry, production, etc. according to the major local needs. Arts and humanity careers are usually secondary choices. In some countries, they also promote research and innovation through the meetings of "creative minds or scientists".
However, Education is usually "Partial Education". Why do we say this? The individual has body, mind, emotions and something more. The mind is connected to the brain (?) and this has left and right hemispheres. The left hemisphere is related to analysis, language, logic, math, etc. The right hemisphere is related to art, music, creativity, face recognition, etc. Most people are right-hand dominant, which is usually controlled by the left side of the brain. Right brain controls muscles on the left side and vice versa. Sports are linked to the development of the physical body.
By the way, some research relates the midbrain activation to the development of ESP (Extra Sensory Perception).
Example: reading with the eyes covered.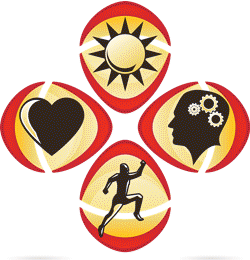 AGNIHOTRA helps in the Integration and Development of mind, body, heart and soul.

Therefore, it seems that conventional education is mainly a left-brain education worldwide.
Few places promote music, arts, dance and other right-brain activities. Very few places promote whole brain development. And very, very few promote the development of moral values. What are the moral values?
The moral values are codes of conduct, which regulate our behavior to ensure harmony in society. Conventional education seems to ignore these moral values and focus on the left-brain and sports. This creates groups that grow as anarchists or tumors in a society. These abnormal groups tend to overpower and control the rest to fulfill the personal desires. They are detrimental to society.
To change society positively, we can change this partial education into a holistic education that focus in the total development of body, mind and loving heart in the individuals.
These "healthy" individuals will make a "healthy" society free of corruption, violence, hypocrisy, etc.
Is there a way to do this?