EDITOR's NOTE
______________
HOMA HEALINGS
______________
HOMA FARMING
______________
ECO NEWS
________________
EVENTS
______________
MESSAGES FROM SHREE VASANT
______________
FROM ORION TRANSMISSIONS
______________



THE SENSES
Let us do a little self-study (Swadhyaaya). According to Ayurveda, man is composed of:
1) Annamaya Kosha - food layer
2) Pranamaya Kosha - vital layer
3) Manomaya Kosha - Mental layer
4) Vignanamaya Kosha - wisdom layer
5) Anandamaya Kosha - layer of bliss, Soul
These layers make up the bodies: physical, astral and causal. These bodies move in their respective planes or dimensions. As a being achieves mastery (control over one body), he/she/it also gets some freedom in the respective plane. This depends on their degree of identification with a body and the attachment to that plane.
These bodies intertwine and they are vehicles for the soul to learn certain lessons. Along with the physical body, we also have senses. They are windows to the outside world and they can be used properly or improperly.
The relative sensory percentage of the senses is more or less:
sight - 80%
hearing - 14%
smell - 3%
touch - 2%
taste - 1%
These percentages vary according to the activity that is being carry out. Thus, 90 % of the perceptions of a car driver are visual. If the senses are well used, they can protect us, maintain and support our activities and psychophysical development. For example, through smell and taste, we can accept or reject certain foods.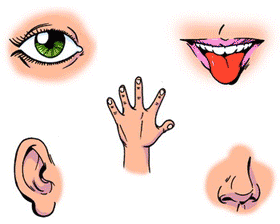 The practice of the Fivefold Path helps us to control the Mind and the Senses.
The mind is connected to the senses. The mind can confirm or deny the conclusion of the senses. Thus, what a person with thirst in the desert would pick to drink: a) a liter of water,
b) a liter of beer, c) a liter of whiskey...?
A fine and precise reasoning would choose water. A clear mind with disciplined senses leads to wellness. However, a cloudy mind and undisciplined senses (unstable) lead to the disease. Let us use our imagination and a bit of symbolism to understand this and look at these characters:
Animals or horses = senses
The chauffeur or pilot = mind
The passenger = soul
These are two scenes;
1- A carriage with 5 well-trained horses, and a sober driver who can take the passenger to the correct destination.
2- A carriage drawn by five Broncos and a drunk or weak driver who would take the passenger to a wrong destiny or rollover.
Today, it seems that many carriages show: the senses as the masters, the minds as the servants and the souls are totally ignored.
If we control the tongue, it is easier to control the other senses. The tongue can serve for eating and speaking. If we eat nutrients and speak with precision, compassion and love, we help others and ourselves.