EDITOR's NOTE
_______________
HOMA HEALINGS
_______________
HOMA FARMING
_______________
ECO NEWS
_________________
EVENTS
_______________
MESSAGES FROM SHREE VASANT
_______________
FROM ORION TRANSMISSIONS
______________



THE CHASE
Perhaps you have seen a film where there is a race or chase with cars, motorcycles, planes, boats, on horsebacks or by foot, etc. This is the main theme in many movies that captures the attention and focus of the public.
This seems to reflect an aspect of what happens in the lives of many people, of course without much action and danger. Many are caught in the "rat race" behind the cheese.
Yes, it seems that we are continually looking for something:
food, money, pleasure, joy, sex, fame, recognition, gratitude, compassion, kindness, knowledge, house, car, music, warmth, love, etc.
The ultimate goal behind this quest is "Happiness" or "Joy". The search is performed according to our abilities and our consciousness. For some life is about capturing a prey and avoid being captured. For others, it is about expressing feelings, emotions, thoughts, etc. ...; similar to what an artist does. Some people feel the joy of understanding.
Many feel the pleasure of superiority by controlling others. Others seem to seek the pleasure of inferiority by being controlled by others (?)
We seem to be trapped in a web of:
-rights and wrongs
-white and black
-light and darkness
-the unconsciousness with open eyes (waking) and the subconscious with eyes closed (sleep)
-seeing the glass half full and half empty
-other dichotomies.
Life for many is a "persecution" like in the movies that attract so many people.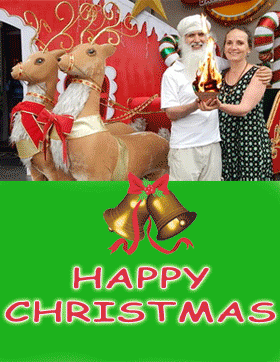 Agnihotra brings your focus from the outside into the depth within you to the encounter with your Soul.
Why do we do this if there are no actual cases where "happiness forever" is achieved?
The Spiritual Scientists say: The Mind and the active senses usually lead to extroversion and change.
We are running out in all directions behind transient pleasures but "Real and Permanent Happiness is within us".
The Fivefold Path helps us to go inwards (internalizing our attention) and in one direction, towards the Center.
Most people look for gifts behind after their actions. However, eventually we will want to approach to one who gives us the gift of life, to the source of everything.
The fire (light) and the Mantra (sound) of Agnihotra helps us to resonate with the light and the sound which is intrinsic to our being.
The Source is "Sat-Chit-Ananda" (Reality-Consciousness-Bliss).

As we disentangle, we see that everything can be real or unreal (true or false) in this world of relativity. However, sometimes we managed to smell the fragrance of a flower, without seeing it.