EDITOR's NOTE
_______________
HOMA HEALINGS
_______________
HOMA FARMING
_______________
ECO NEWS
_________________
EVENTS
_______________
MESSAGES FROM SHREE VASANT
_______________
FROM ORION TRANSMISSIONS
_______________



SERVICE WITHOUT EGO
Let us do more Swadhyaaya (Self-study). You may have already discovered the joy of serving others. Almost everyone knows the joy of "self-service".
The majority of our actions are to benefit us first of all. It may be when you can pick up a glass of water, a plate of food, clothing, etc.
But, some people may be helping others throughout the day, as a mother, a doctor, a nurse, a teacher, a bus driver, a garbage collector, etc.
However, most people also look for a reward (directly or indirectly): money, pleasure, happiness, recognition, fame, power, etc.
Occasionally, you meet someone who lives happily serving selflessly. And you realize this because they do it anonymously. They are behind the camera or the curtains or in an annex room or elsewhere. They are the invisible actors / doers. Sometimes, they are like Invisibles Angels behind the "Miracles". Usually, they are working in the background or foreground as unrecognized shadows. And yes,yes,yes, they are the real actors or doers. This reminds us of the story of a Loving Master who taught by example.
Once upon a time, a student came to the Teacher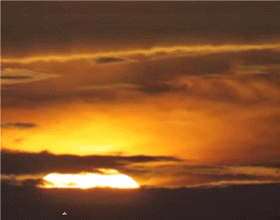 Even after all this time the sun never says to the earth:
"You owe me."
Look what happens with a Love like that: it lights the whole sky.
(Sufi poet- Hafiz)
and said: "I feel uncomfortable because people are applauding me, thinking that I am responsible for the fabulous things happening, but You are."
However, the Master said, "It is Okay, someone has to get the credit." Then, the student realized the Great Humility of His Master.
Then, this student told himself. "He is the Master Mind and the Cause. People can think whatever they want, but I am not responsible for these wonders, He is." Since then, whenever people mistakenly praise the student, in his mind and heart, he bows towards his Master. And whenever there is a possibility, the student says:
"It is All His Grace."
The practice of the Fivefold Path (FP) takes you in the direction of Unconditional Love, Selfless Service and what can be called
'Total Surrender'.
This is Great Joy or "BLISS".
OM Fivefold Path OM
OM Master OM OM Guru OM
OM SHREE OM