EDITOR's NOTE
_________________
HOMA HEALINGS
_________________
HOMA FARMING
_________________
ECO NEWS
_________________
EVENTS
_________________
MESSAGES FROM SHREE VASANT
_________________
FROM ORION TRANSMISSIONS
_________________



EXTREME CLIMATE CHANGE
We are all responsible (directly or indirectly) of the extreme climate change because we pollute and use pollutants.
Naturally, the weather dramatically changes with the seasons in temperate zones, moderately in the tropics and very little in the poles.
However, due to
pollution and the greenhouse effect, the global warming has precipitated EXTREME CLIMATE CHANGES worldwide.
This creates floods, droughts, hurricanes, storms, melting icecaps, loss of millions of lives and extinction of species in the animal and plant kingdoms, etc. It has been shown that irrational, unconscious, selfish behavior is the main cause and this comes from a "sick mind."
Man with sick Mind -> pollution, violence, damage to
-> Earth and all its occupants -> sick man.
According to a saying
"Out of sight, out of mind."
Yes, yes, one cannot love or appreciate or feel what you do not perceive and taken into account. Sometimes, we can see things, but we do not look at them. Sometimes, we can hear them but we do not understand them. And sometimes, we can see and hear things perfectly, but we do not connect or associate them;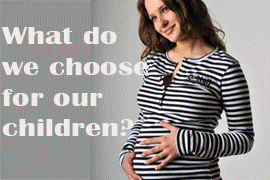 What do we choose for our children?
and they have no meaning for us, as if they were separate pieces of a big puzzle. This happens in many aspects every day. Some aspects are negligible, but others are not. For example, the way we behave and its effects on the environment.
What is your ecological footprint?
If you want to know, you can see:
http://myfootprint.org/
Most of us are polluting the environment in a greater degree than we think. We pollute the air with our vehicles (car, airplanes, etc), factories, etc. We pollute our waters (rivers, lakes, seas, etc.) with toxic waste (domestic, industrial, etc.)
We also contaminate soils and subsoil with garbage and waste (domestic, industrial, hospital, etc.). However, do not forget that there are other highly polluting activities, which are not usually considered, for example, the cutting and burning of forests, conventional agriculture (pesticides, herbicides and chemical fertilizers), mining (arsenic, mercury, etc.), GMOs (transgenic agriculture), livestock farming (with excess waste of nitrates, nitrites, methane, etc.).