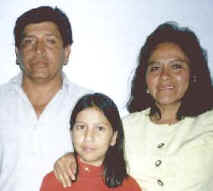 Fam. Zapata Zapata
Jose, Ana Claudia, Silvana Veronica
Piura, Peru
Problems:
"We are all very happy with the healing fires of the Homa Therapy. We have seen how Jose, the father, who had a bad temper (which of course influenced our whole family life), had respiratory problems and tachycardia (rapid heartbeat) and gastritis, does now no longer have any one of these problems.
The best is, that he does not drink alcohol any more, not even during the football games does he touch alcohol. With the help he receives from Agnihotra practice he just decided he did not need that any longer.
There is more conversation and better relation amongst all of us in the family. We feel more harmony, even at work. We are very thankful to the Homa Therapy for these improvements in our life."