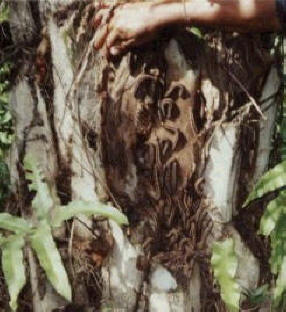 Palm oil tree with great amount of Brassolis Sp. larvae, commonly called "Ahuihuas"
USING CONVENTIONAL METHODS:
Low yield (till 2 tons/ hectare/ year) due to presence of plagues and diseases.

In addition the soil is acidic, shows little fertility and is overgrown with weeds.

The

Ministry of Agriculture has tried all means like: Chemical, biological, cultural control and others to end the sanitary problems and the problems of toxicity and infertility of the soil.

Yield is decreasing from harvest to harvest.

High percentage of non commercial fruits.